UNDERGROUND BUNKUM comes complete with set projector screen backgrounds for every song, all the instrumental accompanying music soundtrack recordings, and the script for dialogue between songs connecting the subject matter which addressing issues of the day.  Topics expressed in the musical are revealed in the song titles including, among others, Climate Change, Truck Driver (supply chain), going to Mars, Debtors' Prison (a student loan concern), Modern Pioneer (the world of robotics, artificial intelligence and technology depicting the plight of a high-tech global leader), Teachers' Lounge (the education system), and being today's rock star!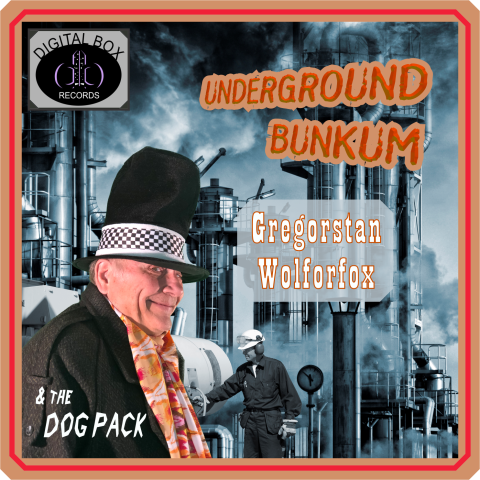 Digital Box Records (digitalboxrecords.com), also owning and controlling all the related rights for UNDERGROUND BUNKUM, is a broad musical spectrum full service independent American record company and publisher with more than 8,000 original songs and compositions and is currently offering this 100% ROYALTY FREE Stage Play Musical - available to any theatre group or company interested in performing it, whether EQUITY, NON-EQUITY, or COMMUNITY.  Owning and controlling all rights to 10 projector screen background sets for the ten songs along with the 10 accompanying instrumental soundtracks, and the scripted connecting dialogues between compositions/songs, this is a musical stage play already "in the can."  A theatre group or company would only need the singer-actors and a stage!
UNDERGROUND BUNKUM is eclectic and beyond the ordinary.  It's absurd, ridiculous, it's protest, it's possibly political, it's satire, definitely humorous, and very entertaining.  Also - highly competent musically - in genres that combine a variety of influences are performed including country music, folk, rock, classical, and an uncommon blend of whatever.  The 10 songs each come with an accompanying video (which are the set/stage-backgrounds for the play), and may all be viewed through the link provided below.  Don Kaufman, President of Digital Box Records comments that having the blessing of UNDERGROUND BUNKUM composer M.J. Berger, we agreed to simply reach out to theatre groups that might like to perform the piece.  There are no fees or costs due to Digital Box Records or composer M.J. Berger - even if equity theatre performs it. 
Interested parties can see the background projector screen sets and hear the music and lyrics here: 
https://gregorstanwolforfoxthedogpack.bandcamp.com/album/underground-bunkum
If interested in learning more regarding obtaining the royalty-free rights to UNDERGROUND BUNKUM, please contact Don@DigitalBoxRecords.com
Media Contact
Company Name: Digital Box Records
Contact Person: Don Kaufman
Email: Send Email
City: Chicago
Country: United States
Website: DigitalBoxRecords.com